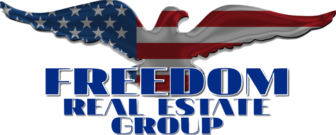 SCHEDULE YOUR FREE CONSULTATION CALL – $350 VALUE!
CALL 844-877-0888
Testimonials
Extremely Responsive, Prompt, and Detail Oriented!
"As someone who is very detail oriented and meticulous, I had a lot of specific questions on the properties I was interested in. Eric and Tiffany were extremely responsive, prompt, and equally detailed in their responses. I know I can rely on them to answer any future questions I may have. In addition to their amazing service, Freedom's topnotch warranties mean you can invest confidently. Thanks to Freedom, I now have multiple properties through them that are performing with great returns. I can confidently recommend Freedom to anyone looking for high quality turnkey properties. Thank you!"
Referred Clients of Mine to Get Higher Returns
I have referred clients of mine to Dani to be private money lenders.  As a Realtor, it was very important to me that I trust the integrity of the person to which I refer any client because it affects my reputation and business as a result.  Dani and her husband Flip understand this well being licensed themselves.  They've handled my clients with the utmost care and I am happy to continue referring more people to them so that they can get higher returns through the private lender program instead of cash sitting around in the bank or other investment vehicles not as secure and not earning nearly what they could as a private lender.
Using My IRA To Put My Money To Work Completely Tax Free!
I've never used my IRA for anything other than investing in mutual funds. After our first deal, that one investment alone increased our returns 12 times over compared to what we were getting before.  As soon as that deal closed, Dani sent me the next one immediately so I could keep putting my money back to work completely tax free.
My Money Is Never Just Sitting Around
I've been funding deals for Dani for awhile now.  She has been very helpful in speaking with her title companies attorney to get all my questions answered regarding setting up all of our notes and mortgages legally for our entity since we live outside the areas she is investing.  She's always emailing to find out if we have more funds available to put to work and earn more interest which I love so that my money is never just sitting around.  I've enjoyed her communication and updates and always being available when I call.
Great Returns!
I have been working with Dani for over a year now and have funded many deals for her and getting great returns.  I only work with very experienced investors and I've enjoyed our working relationship and most of all Dani's communication and how organized and detail oriented she is.  She treats my money like her own which for me, is the sign of a true professional.
12% Interest!!
I had a little over $100K sitting in my IRA earning little interest invested in mutual funds and I decided to work with Flip & Dani as a private money lender and we just finished our very first deal together that earned me 12% interest!!  The best part is that they did ALL the work with the IRA company for me!  All I had to do was review and sign the docs!!  I couldn't be more pleased about the increased return on my money, the safety of the investment and simplicity of working with them!  I'm looking forward to many more.
Small List of "Go-To" People for Turnkey Rentals
I've known this dynamic duo for years and have personally done business with them. I highly recommend them to anyone that wants to align their investment portfolios with Dani and Flip's offerings.  In fact, they are on my very small list of 'go-to' people when anyone asks me about investing in turnkey rentals.
As a blogger, event organizer, and leader of several Facebook Real Estate Groups, I've seen all kinds, and heard some of the most horrific stories from many victimized by trusting the wrong people.  Dani and Flip know that to be in this business for as long as they have, they know that finding the right solution for the right investor is critical for everyone to succeed in real estate investing.
Always do your own due diligence.  I'm sure you will find like I have, that Dani and Flip are the real deal.
Just closed on my 3rd investment property
I just closed on my 3rd investment property with Flip & Dani Lynn. I've truly enjoyed their ease of access and their availability via phone or email anytime I need them.  They genuinely want to help an investor like me, find exactly the desired type of location & properties I was looking for.  My experience with another company was a 'used-car-lot' attitude, not caring to listen to what I was looking for, with their continual daily pressure to buy in poor locations of a 'war-zone' city.  It's great to work with a team who has a passion and heart for their investors, while providing great attention to details!